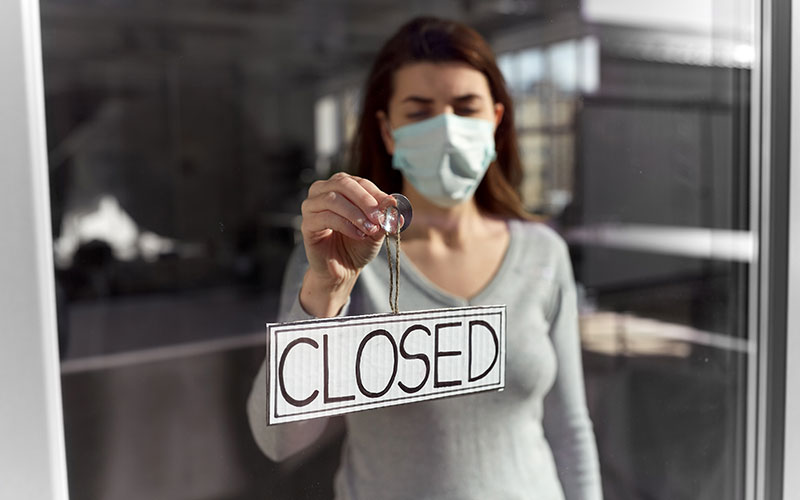 Improving Your Business During A Shut Down
The coronavirus pandemic continues to drastically change the lives of billions of individuals around the world. Worst of all, millions are sick and thousands have died. Most non-essential workers and students remain quarantined and many businesses are closed. Even hours and operations for essential businesses have been reduced and most educational and religious institutions have rapidly shifted to virtual operations.
Similarly, small business owners face tremendous challenges related to closures, maintaining payroll, managing remote employees and dealing with lost revenues — as they fight to keep their businesses open and moving forward.
The U.S Chamber of Commerce estimates that 54% of businesses have temporarily closed or will close permanently as a result of the national shut-down — with no clearly defined end in sight. Many small business owners continue to experience feelings of helplessness and frustration during this crisis, resigned to sit and wait it out in hopes they will be able to survive this crisis. However, there are still ways for small businesses to adapt, implement changes and to plan for the future and make the most of this lockdown.
Adapting To Accommodate Clients
Stepping back and thinking about creative solutions during this time can help your small business sell products and services — even paving the way for permanent and positive changes in business operations. Before hunkering down and completely stopping operations, business owners should ask themselves three key questions.
How can I generate sales during this time?
Businesses must grasp opportunities to continue to generate sales in creative ways. Restaurants should not only focus on offering takeout, but on improving their take-out system to be more efficient, attract new customers and ultimately expand revenues from takeout. For product-based retail businesses, pushing more customers to purchase online may help replace some lost revenue and lower costs long term.
Can this business help potential consumers beyond sales?
With so many small businesses closing, many consumers have limited options. For example, without hair salons, people must find alternatives. Businesses may not be able to perform and charge for this service but should make themselves available to customers and maintain the relationship. This could mean creating video tutorials on how to cut hair or do upkeep on a lawn, or even reaching out to or taking phone calls from customers and giving them personalized advice on what to do while the business is not able to do this service for them. Through doing this businesses will be able to keep in contact with their customer base during this pandemic and make sure their customers know that they value their business.
Is this an opportunity to grow online sales?
Many small business owners struggle with maintaining their online presence, as they focus on vital daily operations and often do not know to make the transition to selling online.
Regardless of how long this pandemic lasts, online sales will continue to increase as people look to limit their exposure. With this in mind, now is the perfect time for small businesses to boost their online presence and explore options for online sales. Customer demand exists; so businesses willing to answer this demand will position themselves to maintain current customer relationships and establish new ones. This is a prime opportunity to establish an online customer base.
Take Inventory
If your small business remains closed temporarily or faces limited hours, this slow time represents an opportunity to focus on things that typically get pushed aside in lieu of many day-to-day issues. Take this time to look closely at past business performance to find areas where you can improve efficiencies when operations resume. Identify areas that may have been overlooked and work to make improvements. Additionally, take this time to get ahead on office housekeeping, such as cleaning or reorganizing office work spaces, updating and optimizing your online presence, or encouraging employees to learn new skills, earn certifications and develop personal development skills that will be helpful to have once operations resume.
Prepare
Whether it happens in a matter of weeks, or closer to a year, one thing is for certain. Lockdown will end eventually, and operations will resume. Small businesses need to create a game plan for when this happens. Reach out to employees and customers and create a plan for when operations resume. For example, landscaping companies should expect to see a potential
increase in customer volume due to the lack of maintenance during the lockdown. All businesses need to plan for prioritizing their workload and managing employees. Businesses need to be ready to start up quickly once the lockdown ends using a plan of action that considers the full spectrum of scenarios.
Keep The Lines of Communication Open
When your business closes temporarily, communication with customers and employees must continue. Business owners obviously need to keep everyone in the loop about operational changes — but also to suggest different ways customers can continue using the products or services they offer. Whether through online purchases, takeout, no-contact curbside pickup, making calls and asking questions, or other things that customers may need to know, it is important that customers know where to go to continue to use a business during this time.
Additionally, business owners should use their resources to keep their business in front of customers and potential customers. Social media engagement has increased by 40% during the pandemic. Thus, creating relatable, comedic or informational posts allow for continued and increased engagement during this time. If a business fails to keep in touch with customers, they risk losing valuable revenues to their competition.
How We Can Help?
The 'essential' team at Spider Marketing Group remains dedicated to helping small business owners maximize their exposure and online presence. If your company needs advice, support or assistance to weather this storm, we are happy to offer free suggestions with no pressure or obligation to work with us.
If you decide you want to work with us, we offer many services, including:
● Developing and maintaining your social media accounts
● Helping to update your clients on operational changes during this time
● Helping business owners brainstorm to identify new revenue streams
● Transferring Google Ads spending to Social Media campaigns
● Helping businesses to identify alternative ways to continue customer service
● Helping businesses new text, graphics or video content for engagement
● Assisting businesses with ad budget analysis and strategy For more information about improving your business during quarantine from the experts at Spider Marketing Group, please contact us here or call us directly at 616.406.9695.