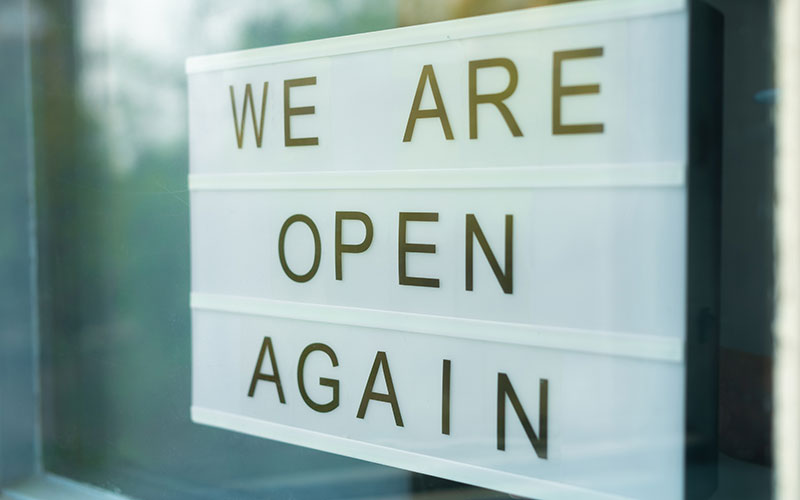 7 Tips For Emerging From A Shutdown
As the state continues to reopen in phases from a statewide shutdown, business owners find themselves operating in a very different world — especially in regards to how they approach sales and marketing. 
From adhering to constantly changing state regulations and restrictions to ensuring customer and employee safety, business owners face numerous new challenges. Add to all this drastic differences in sales and marketing methods, business owners must adapt quickly to avoid falling even farther behind.
Despite pent up demand driving customers back to some businesses in droves, many businesses still face daunting obstacles to attracting customers. In order to bounce back and create momentum during these uncertain times, businesses must carefully develop the right strategy to re-engage with past customers while reaching out to new ones. 
While the best method and strategy differs greatly across individual markets, industries and budgets, many core ideas apply to a wide swath of companies facing similar obstacles.
The 7 marketing tips below can be used to spark an effective comeback campaign:
Create An Irresistible Offer
Now is the right time for an offer that consumers cannot resist. Many consumers are taking longer to make purchases and once loyal customers may go elsewhere if they do not feel valued. By creating an irresistible offer, businesses can regain loyal customers and begin to capture the loyalty of customers who formerly looked elsewhere. 
Change Your Pricing Model
While simply cutting prices hurts your business in the long-term, a short-term sale remains a great option to get customers back in the door. While businesses should not permanently slash prices, a short-term promotion could be a great way to ramp up operations quickly.
Offer Purchase Incentives and Add-ons
Offering a BOGO deal can jumpstart sales and maintain your pricing levels. Much like reducing prices, this will get people back in the door while successfully attracting new customers. 
Create A Deadline
A deadline forces a decision, the biggest problem in selling is not those who say no, it is those who never make a decision. By creating a deadline companies are able to generate sales from people who were on the fence and want to take advantage of a promotion.
Upgrade Your Company Website
What does a business want potential customers to see when they look at their website? Companies must address the elephant in the room, and even if their operations may not have changed during the pandemic, the website should atleast address it. This also gives an explanation of why a company may be doing the dramatic promotion it currently is running, and allows the company to demonstrate that they appreciate their customers for supporting the company through the pandemic by giving them the offer that they are running.
Incorporate Video Into Your Marketing
Companies need to have the best comeback campaign in their niche. Many of the company's competitors may run no comeback campaigns, or a smaller comeback campaign. However through running the best comeback campaign in their market sector, companies can capture new consumers. Video helps to do this by appealing to people with a short attention span, and it can help to create a connection with consumers in a time where people are looking for connection more than ever. Videos need to be high quality, and explain the promotions companies are running, why they are doing it, when the deadline is, and how they are running the campaign. 
Use Multiple Media Channels
Potential customers need to know about the campaign, companies should connect with existing and potential customers however they can. This can be through email, text, phone, social media, or the company's website or storefront. Companies should use remarketing and connect with customers as much as possible without spamming them in order to make them aware of the current promotion. This step ties all of the other steps together because if people do not know about the promotion the promotion will not be effective.
While all of these strategies are important all the time, they are especially important now. Customer communication will never be the same — and businesses must adapt to these long-term changes or they will not survive. By creating an effective comeback campaign, companies can jumpstart sales and operations and begin to position themselves to be successful in the long-term.
For more information about emerging from a shutdown from the experts at Spider Marketing Group, please contact us here or call us directly at 616.406.9695.